Dropbox Business Model Explained: How It Revolutionized Cloud Storage and Collaboration
About the Company
(As of February 2023)

A brief history of Dropbox
In the bustling horizon of tech startups, two brilliant visionaries Arash Ferdowsi and Drew Houston introduced a new way to access and share files, without carrying around those bulky drives.
And so at that moment, Dropbox was born in 2007. With just a video demonstration and waitlist, their update quickly went viral, generating a buzz, and bringing in thousands of strongly waiting for sign-ups.
In just a short time span, Dropbox has actually become a hub of file sharing with millions of users, for both individuals and professionals alike.  Dropbox in 2009 reached 1 million registered users and continued to grow rapidly in the following years, reaching 700 million registered users by Q4 2022.
All that being said, Dropbox was the perfect technology for two young dreams who dared to challenge the status quo and change the way we store and share our digital lives.
Who Owns Dropbox?
Have you ever wondered who owns this one of the most popular cloud-based file hosting and sharing services platforms? Let's delve into the facts:
Drew Houston along with Arash Ferdowsi is the Billionaire co-founder and CEO of Dropbox.
Since 2007, Houston has leveraged the company's growth from a basic idea to a service, utilized by more than 700 million people around the world.
The American entrepreneur had already worked for a number of startups by the age of 24, and even discovered one, with Arash Ferdowsi, his MIT mate.
Apparently, Ferdowsi's role in Dropbox has been instrumental as he has been involved in various aspects of the company's operations, including product development, technology strategy, and overall business direction.
Ferdowsi's and Houston's involvement with Dropbox showcases the entrepreneurial spirit and innovation that drives the company's success. As Dropbox business founders, their contributions have helped shape Dropbox into the widely-used cloud storage and file-sharing service that it is today.
Empowering Global Collaboration: The Dropbox Mission Statement
Well, their mission statement is "To Design a More Enlightened Way of Working – The two primary highlights of Dropbox's mission statement are all about enhanced working models and improving lives in the long term, reducing the workload of uploading and file sharing every now and then, fostering an efficient and collaborative way of file sharing and synchronization.
So say goodbye to those distracting pings that disrupt your team's workflow and waste time switching between apps/tabs, and do the meaningful stuff.
The Power of Cloud Storage: Knowing How Dropbox Works
Enter into the world of Dropbox, where you don't have to juggle multiple files and struggle with storage limitations.  With its user-friendly interface and seamless integration, Dropbox can be a go-to solution for your personal or professional use. Have you ever wondered how this digital wizardry actually works? Here's a quick rundown to go through-
Cloud storage
Cloud storage is the concept that lies at the heart of this platform. Dropbox nimbly allows to store of files in the cloud on remote servers, accessible via the internet. This allows you to access your files from any device, eliminating the need for physical storage devices like external hard drives or USB drives.
Seamless Device Compatibility
Another key feature of Dropbox is seamless synchronization capability. Changes made to any file in the Dropbox folder from adding to editing or deleting, automatically get synced across all your linked devices in real-time.
This simply means you can start working on a document on your PC, make updates on the smartphone on the go, and then access the latest version on your tablet when you reach home, without missing a beat.

Sharing Made Easy
Just like it says; collaboration has been a cool breeze with Dropbox's advanced sharing features. You can easily share folders and files with others, regardless of whether them being a Dropbox user or not. Inviting collaborators via email and making edits, leaving comments, and tracking changes in real-time is another highlight of this productive tool.
And guess what? Multiple users can work at the same time simultaneously, streamlining workflow.
Robust Security
Surely, security is another top for Dropbox business. With millions of files stored and users both in transit and at rest, the tool makes sure that every encrypted layer of data is 100% secure.
Standard password protection, two-step verification, and remote device wiping give absolute peace of mind that every file stored is protected against any unauthorized access.
Integrations Galore
The file-sharing staple seamlessly incorporates a multitude of popular platforms and applications. From Google Workspace to Microsoft Office, the versatile tool also goes well with Trello, AutoDesk, Adobe, Canva, and Slack, boosting productivity and keeping the workflow efficiently smooth.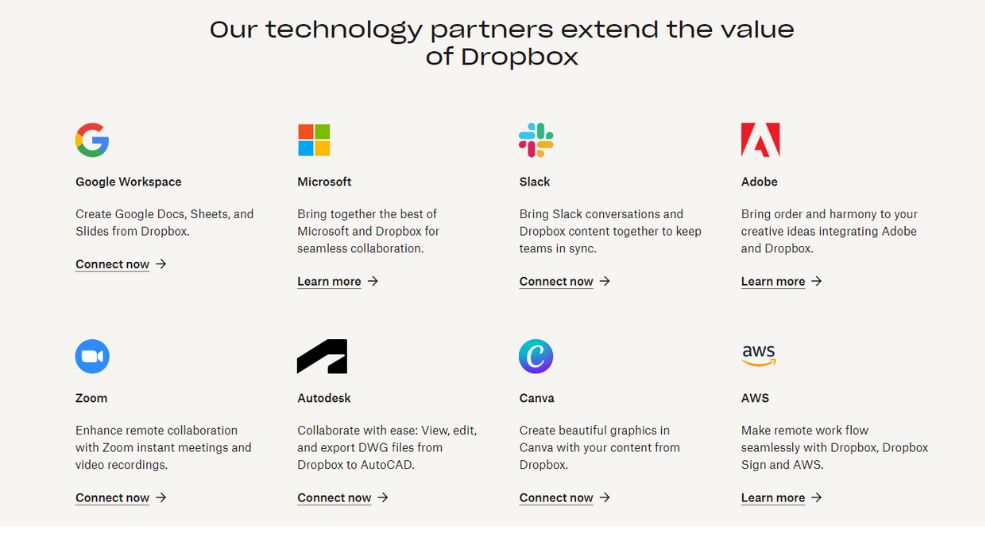 Monetizing the Cloud: How Dropbox Turns Innovation into Profit?
The minimally priced cloud storage service makes money by charging users for premium features and additional storage space such as increased security and expanded file version history. Well, it all comes from the varied subscription plans Dropbox has to offer, which you can find ahead.
However, the total generated revenue by Dropbox till Q4 2022 was  $2.325 billion.
Plus subscription offers storage capacity of 2TB, offline file access, advanced sharing controls, and priority email support along with Dropbox Rewind to restore previous versions.
Family plan is basically designed for families with 2TB of storage capabilities, and can be shared with up to six family members. Users can access shared folders and family billing, making it convenient for all to collaborate and organize files together.
Professional subscription is designed for independent users and freelancers with higher storage needs and more advanced collaboration requirements, offering 3TB storage features. With the add on of Smart Sync, that allows users to access files online without taking up much disk space. The Showcase feature gives a channel for creating interactive and branded presentations with files.
Standard plan has proven to be a smart choice with 5TB space for small teams and businesses, including the team folders, version history, and file recovery feature. Standard plan users can also make the most of shared links, commenting, and chat file requests.
Advanced subscription turns out to be legitimitate enough for larger organizations with larger teams. With advanced administrative controls, the users can keep an eye on team activity and priority email and chat support. The users can also have the option to choose unlimited storage for their higher data storage requirements and complex collaboration requisites.
Enterprise plan is basically for large enterprises with extensive collaboration and administration requirements on a daily basis. With unlimited storage capacity, users get domain management, enterprise grade security, single sign on, and compliance controls. As Dropbox experts share, the Enterprise subscription is scalable and customizable as per one's needs.
Still, you can always capitalize on a free 30-day trial, and then look for an Upgrade further for added security, functionality, and collaboration. Are you a Dropbox basic user or a premium user? 
Connected & Collaborative: Dropbox's Affiliates in the Digital Ecosystem
Another interesting concept that Dropbox has to offer is their Affiliates Program, which merely allows a user to earn extra space. If you set forth Dropbox as something accountable among your friends and professional networks, then their affiliations can help you earn some extra money.
With a blog or website, any Dropbox Pro user can join the Commission Junction network, which is free of cost. The affiliates team will post custom links that can be tracked, reported, and get paid for when shared.
Technically, the most successful affiliates will create their own zone of microsites. Any visitor coming and signing up for a free trial automatically generates a commission for the Pro user.
Friend Referral Program
Another advertising technique that brought in more users was the referral program that Dropbox gave to both the first user and user being referred to join with signup. As per Houston, when people refer others to sign up for Dropbox, the number of signups increased by 60%. Dropbox makes it simple for users to share the product with others and even rewards them with incentives.
For instance, when someone refers another person to sign up for Dropbox, both the referrer and the person they referred to get an additional 500MB of storage space, once the referral signs up.
We have to mention that this strategy holds pronounced economic merit. When they share a file with someone else, they can encourage the others to open an account with their referral link.
Social Media
Even Dropbox barely spends money on ads and endorsements, still the brand has managed to be more than a $12 billion dollar entity. Just like any other successful business, Dropbox also utilized social media to achieve that phenomenal success.
The branding gave it a little bit of twist! With each connection on Facebook, follow on Twitter or Dropbox, they proposed the users with a 125MB increase.
Effective Marketing & Virtualization
Dropbox has certainly introduced its huge user base as an asset with word of mouth and experiential marketing approach in real time.
With keeping every individual user's requisites at upfront and offering services as per user's touchpoint, they have clearly shown that they put their customers first and equip them to grow the brand. Definitely, we can label them as a marketing genius to date.
The commercial version of Dropbox offers "pro" features that empower customers to create virtual disks within their free account. These virtual storage spaces where files can be stored, managed, and accessed seamlessly.
This allows users to leverage the power of virtualization, eliminating the need for physical storage and enabling efficient file management in a virtual environment.
With these "pro" features, Dropbox provides enhanced capabilities to users, allowing them to build virtual disks that cater to their unique needs, maximizing the potential of their free account and unlocking new possibilities for file organization and collaboration
Dropbox Business Model Canvas
Dropbox Customer Segments
As a cloud-based file hosting service, Dropbox serves a diverse range of customer segments across different industries and user types. Some of the key customer segments for Dropbox include-
Individual Users- This segment includes individual users who utilize Dropbox for personal purposes, such as storing and sharing files, photos, and videos with friends and family, accessing their files on multiple devices, and backing up important data.
Small and Medium-sized Enterprises (SMEs)- Dropbox caters to SMEs, providing them with a simple and secure platform for team collaboration, file sharing, and data management. SMEs across various industries, including marketing, advertising, consulting, creative agencies, and other professional services, use Dropbox to collaborate on projects, share files with clients, and streamline their workflow.
Large Enterprises- Dropbox also serves large enterprises and organizations like Expedia Group, Adidas, UnderArmour, National Geographic, and Spotify, offering enterprise-grade features, security, and compliance capabilities.
This segment includes companies from other various industries, such as finance, healthcare, technology, and manufacturing, which require advanced collaboration and data management solutions.
Education and Research Institutions- Dropbox is used by educational institutions, including schools, universities, and research organizations, for file sharing, collaboration, and document management among students, faculty, and staff. It helps facilitate online learning, research collaboration, and administrative processes.
Media and Entertainment- Dropbox is utilized by professionals in the media and entertainment industry, such as photographers, videographers, musicians, and other creative artists, to store, share, and collaborate on multimedia files.
Individual Professionals and Freelancers– Dropbox is popular among individual professionals, freelancers, and gig workers, such as photographers, designers, writers, and consultants, who require a reliable and secure file storage and sharing solution for their work-related files.
Personal and Business App Developers- Dropbox also caters to app developers who require cloud-based storage and file sharing capabilities for their mobile or web applications. Dropbox offers APIs and integrations that developers can leverage to build custom solutions for their apps.Undoubtedly, Dropbox's versatile platform and features cater to a wide range of industries, use cases, and user types, making it a popular choice for many different customer segments.
Dropbox Value Propositions
Secure File Sharing- Dropbox makes it easy for businesses to securely share files and collaborate with team members, clients, and partners. Users can create shared folders, set permissions, and control access to files, ensuring that sensitive business data is shared securely.
Example- A marketing team can use Dropbox to share files for a campaign with different team members, allowing them to collaborate on creative assets, review drafts, and provide feedback in real time.
Enhanced Team Collaboration- Dropbox offers features that facilitate team collaboration, such as file commenting, version history, and integrations with popular productivity tools. This enables teams to work together efficiently and streamline their workflows.
Example- A remote team can use Dropbox to collaborate on a project, with team members leaving comments on files, making edits, and keeping track of changes made by others, ensuring smooth collaboration and coordination.
Cross-Platform Accessibility- Dropbox allows businesses to access files from anywhere, on any device, including computers, smartphones, and tablets. This flexibility allows teams to work seamlessly across different platforms and devices, whether in the office or on the go.
Example- A sales team can use Dropbox to access sales collateral and customer information on their mobile devices while on the field, enabling them to respond to inquiries and close deals in real time.
Robust Security and Data Protection- Dropbox provides advanced security measures, such as encryption, two-factor authentication, and data backup, to protect business files and ensure data privacy and compliance with industry regulations.
Example- A legal firm can use Dropbox to store and share confidential client documents securely, ensuring that sensitive legal information is protected and accessed only by authorized personnel.
Integrations and Productivity- Dropbox integrates with a wide range of third-party apps and services, such as Microsoft Office, Google Workspace, and Adobe, enhancing productivity by allowing seamless collaboration and file management within familiar applications.
Example- A design agency can use Dropbox to store and share design files, and seamlessly edit and review them using integrated tools like Adobe Creative Cloud, streamlining their design workflow and increasing productivity.
Dropbox Channels
Direct – Homepage- Dropbox's homepage (www.dropbox.com) serves as a direct channel for users to access and sign up for Dropbox. Users can visit the homepage, learn about Dropbox's features and pricing, and sign up for a Dropbox account directly from the website.
Indirect – Referral through users- Dropbox has a referral program where existing users can refer new users to sign up for Dropbox. This referral program serves as an indirect channel for acquiring new users, as existing users refer Dropbox to their friends, family, or colleagues, and earn rewards for successful referrals.
Integration of Dropbox into third-party applications – The platform  has integrations with various third-party applications, such as Microsoft Office, Google Docs, Slack, and more. These integrations allow users to access and share their Dropbox files directly from within these third-party applications, providing a seamless workflow for Dropbox users.
Word of mouth – Dropbox relies on word of mouth marketing, where satisfied users recommend Dropbox to others through positive testimonials, reviews, or by simply sharing their positive experiences with others. This can be a powerful channel for acquiring new users as it relies on the endorsement of existing users.
Partner channels such as online tech forums – The cloud storage platform has partnerships with online tech forums, blogs, or other websites where they promote their services or offer exclusive deals to users who sign up through these partner channels. This helps to expand Dropbox's reach and acquire new users through these partnerships.
Other indirect channels – Dropbox may also use other indirect channels such as social media marketing, content marketing, email marketing, and online advertising to promote their services and acquire new users. These channels may involve creating engaging content, running targeted advertising campaigns, or leveraging social media platforms to reach potential users indirectly.
Dropbox Customer Relationships
Dropbox fosters communities where users can interact, share ideas, and exchange knowledge. These communities include online forums, user groups, and social media groups where users can connect, collaborate, and provide feedback on Dropbox services. Did you know? That Dropbox Forum has 1199173 active members with almost 438511 posts shared.
Dropbox provides customer support through various channels, such as email, live chat, and a help center. Users can contact Dropbox's support team for assistance with technical issues, billing inquiries, or other questions related to their Dropbox account.
Dropbox has C2C support forums where users can seek help from fellow users and experienced users provide guidance, troubleshoot issues, and share tips and tricks with other users.
Dropbox has an automated Question and Answer (Q&A) section in their help center or community forums, where users can find answers to commonly asked questions without needing to contact customer support. This can include articles, guides, and FAQs that provide self-service options for users to troubleshoot issues on their own.
Dropbox offers account management services for business customers, which include dedicated account managers who provide personalized support, guidance, and assistance with managing the Dropbox accounts of businesses or teams.
Dropbox Revenue Streams
Subscriptions- Dropbox revenue for 2022 was $2.325B, a 7.74% increase year-over-year. The brand offers plans such as Dropbox Plus, Dropbox Family, and Dropbox Business, which come with different pricing tiers and cater to different user needs.
Affiliation- Rather than rewarding their users with cash incentives, Dropbox offers free storage space,when promoted typically through their websites, blogs, or social media channels.. But that's not all: the platform rewards both sides for completing the desired action. Both the referred and advocate will get 500 MB of bonus space.
Virtualization – Dropbox offers virtualization services, such as Dropbox Paper, which is a collaborative document creation and editing tool. Dropbox Paper allows users to create, share, and collaborate on documents, presentations, and other types of content within the Dropbox platform.
Dropbox generates revenue from virtualization services through subscription plans, where users need to upgrade to a higher-tier plan to access advanced features or increased storage.
Partnerships- Surprisingly, Dropbox has 522 partners, 483 are technology partners and 39 are channel partners. Salesforce is its largest partner.with other companies and platforms integrate its services and offer additional value to users.
For example, Dropbox has integrations with popular productivity tools such as Microsoft Office and Google Workspace, allowing users to seamlessly access and edit their Dropbox files within these third-party applications. Dropbox generates revenue through these partnerships by charging licensing fees, revenue sharing, or other forms of collaboration.
Advertisement- Dropbox generates measurable revenue through advertising, although this is less common compared to other revenue streams. For example, the platform displays sponsored content or advertisements within its web or mobile interface, or in its marketing materials.
Revenue is generated through advertising by charging advertisers for ad placements or through affiliate marketing, where Dropbox earns a commission for promoting products or services from third-party advertisers. 
Dropbox Key Resources
Data centers- Dropbox relies on physical data centers to store and manage their vast amount of data, which includes user files and documents. In 2021, Dropbox has announced that it utilizes 100 percent renewable energy to power its data centers.
Furthermore, the company has made a commitment to achieve carbon neutrality for scope 1, scope 2, and scope 3 business travel emissions by 2030, while also supporting organizations dedicated to taking action against climate change.
Servers and networking equipment- Dropbox counts a robust network of servers and networking equipment to ensure the smooth functioning of their online file storage and sharing services. Dropbox unveiled its latest aka 6th generation of servers, designed for increased capacity and reduced latency, as part of its file hosting service's ongoing optimization efforts.
Office facilities- Dropbox just like Amazon and other tech giants rely on physical office spaces to accommodate their employees and facilitate day-to-day operations, including administrative tasks, meetings, and collaborations.
Human key resources
Employees–Dropbox 3,118 employees are a diverse and dedicated team of professionals who work for the cloud storage and file sharing company, Dropbox.
With a whopping 16.91% increase in the count (when compared to 2021), it is sure that their work is characterized by creativity, passion, and a commitment to making Dropbox a leading player in the tech industry.
Leadership team- Dropbox's leadership team, including their executives and managers, provide strategic direction and decision-making for the company's growth and success.
User community- Dropbox's user community is a valuable human resource, as they provide feedback, insights, and usage patterns that influence the company's product development and improvement strategies.
Intellectual key resources
Dropbox software and technology- Dropbox's proprietary software and technology, including their file syncing and sharing algorithms, encryption protocols, and user interfaces, are important intellectual resources that give the company a competitive edge.
Intellectual property- The cloud sharing and storage platform's intellectual property, including patents, trademarks, and copyrights, protect its unique innovations and products and provide a foundation for its competitive advantage.
Research and development (R&D) capabilities- The label's R&D capabilities in the year 2022 have been around $ 232.3 million, which includes their ability to conduct research, develop new features, and innovate, which are crucial intellectual resources that enable them to stay ahead in the fast-paced technology industry.
In all these years, Dropbox has made sure to update its community members with the latest of their solutions and updates.
Financial key resources
Capital and funding- Dropbox's financial resources, including capital and funding from investors, are critical for their operations, including product development, marketing, and expansion efforts.
Revenue streams- Dropbox's revenue streams, which include subscription plans, enterprise accounts, and partnerships, provide the financial resources needed to sustain and grow their business. 
Financial management expertise- Dropbox's financial management expertise, including its ability to effectively manage cash flow, investments, and expenses, is a valuable resource that ensures the company's financial stability and success.
Dropbox Key Activities
Considering the same, then Dropbox just like other tech giants leaves no stone unturned in terms of key activities, which include-
Security- Dropbox places a strong emphasis on security to protect the files and data of its users. This includes implementing encryption protocols, employing security best practices, and conducting regular security audits to ensure the integrity and confidentiality of stored data.
Troubleshooting for customers- The brand provides customer support to assist users with technical issues or questions related to their accounts, files, and features. This may involve diagnosing and resolving technical problems, providing guidance on product usage, and addressing customer inquiries.
Promotion of service- The cloud storage solution label engages in marketing and promotional activities to raise awareness about its services, attract new customers, and retain existing ones. This may involve digital marketing, content creation, social media campaigns, and other promotional efforts to showcase the value of Dropbox's offerings.
IT cloud architectures- Dropbox maintains and manages complex IT cloud architectures to ensure the availability, performance, and reliability of its services. This includes maintaining data centers, network infrastructure, and cloud-based storage systems to support the storage and retrieval of files for users.
Product Roadmap- The label engages in strategic planning and development of its product roadmap, which includes identifying new features, enhancements, and improvements to its services. This involves conducting market research, gathering user feedback, and prioritizing product development efforts to align with customer needs and market trends.
Software development- Dropbox invests in software development to create, maintain, and update its cloud-based platform and services. This involves designing, coding, testing, and deploying software applications, as well as implementing software quality assurance processes to ensure the reliability and performance of Dropbox's offerings.
Progressive development of platform and services- Dropbox continuously evolves and improves its platform and services to stay competitive and meet the changing needs of its users. This may involve iterative development, incremental updates, and continuous integration and deployment to introduce new features, enhance existing functionalities, and optimize performance.
Dropbox Key Partners
Business Angels –

As per a source,

Dropbox has been the angel business investor in more than 25

startups and 98 businesses with a fair share, and the list includes YCombinator, Accel, Greylock Partners, GV, Start X, FormSwift, Boxcryptor, Onna, DocSend, Zulip, HelloSign, and many more.

Acquisitions –

With a significant investment of over $590M, Dropbox has successfully completed

29 acquisitions

and made 7 strategic investments, including

FormSwift

and

Secomba GmbH

| Boxcryptor. The company's diverse investment portfolio spans across multiple sectors, including Enterprise Collaboration, Enterprise Information Management, Cybersecurity, and other strategic areas.

Smart Partnerships –

Dropbox has announced strategic partnerships with various brands, including Adobe, Google, Slack, Salesforce, HelloSign, AutoDesk, Zoom, and Microsoft Office 365, among others.

Productivity Tools – Integration with productivity tools like Microsoft Office 365, Google Workspace, and Apple iWork, allows users to create, edit, and collaborate on documents, spreadsheets, and presentations directly from Dropbox.
Communication and Collaboration –

Dropbox is working with communication and collaboration tools like Slack, Trello, and Asana, enabling teams to streamline their workflows and collaborate on files and projects seamlessly.

Digital Signing and Contract Management- Integrations with digital signing and contract management tools like DocuSign, HelloSign, and Adobe Sign, allow users to sign and manage documents securely within Dropbox.
Content Management and CRM- Dropbox has collaborated with content management and customer relationship management (CRM) tools like Salesforce, OnePageCRM, WordPress, and Joomla, allowing users to manage and share content and customer data efficiently.
Cloud Storage and Backup- Dropbox is also working with cloud storage and backup services like Google Drive, Box, and Amazon S3, allowing users to sync and backup files across different cloud storage platforms.
Security and Compliance-

Dropbox has joined hands with security and compliance tools like

Okta, VMWare, and, Symantec,

helping users to ensure data security, compliance, and governance within Dropbox. 
Dropbox Competitors
There is no doubt that nothing syncs better than Dropbox. However, it's worth noting that the competitive landscape can change over time as new companies enter the market or existing ones evolve their offerings. 
Some of the notable Dropbox competitors include-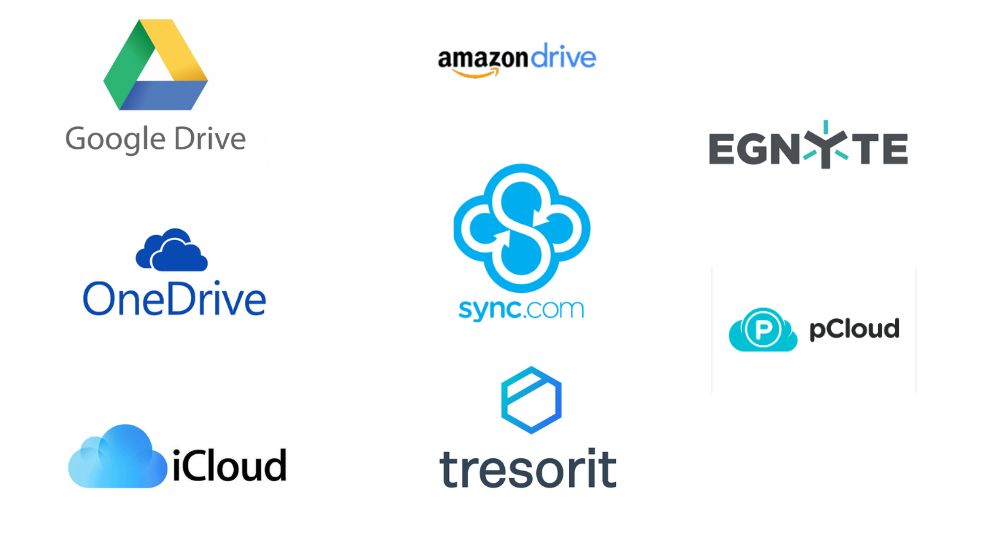 Google Drive- A cloud-based file storage and sharing service offered by Google, which allows users to create, store, and share files and collaborate in real-time.
Microsoft OneDrive- A file hosting and synchronization service provided by Microsoft, which offers cloud storage and file sharing capabilities integrated with Microsoft Office suite.
Apple iCloud- A cloud-based storage and synchronization solution offered by Apple, designed for Apple device users to store and share files across iOS and macOS devices.
Amazon Drive- A cloud-based file storage and sharing service offered by Amazon, primarily aimed at consumers and Prime members, providing storage for photos, videos, and other files.
Sync.com- A cloud storage and file sharing service known for its strong focus on privacy and security, offering end-to-end encryption and other security features.
Tresorit- A secure cloud storage and file sharing solution that focuses on providing end-to-end encryption and enhanced security features for businesses and individuals.
Egnyte- A cloud-based content collaboration and governance platform that offers file sharing, content management, and data governance features for businesses.
pCloud- A cloud storage and file sharing service that offers encrypted storage, file versioning, and collaboration features for individuals and businesses.
Dropbox SWOT Analysis

Dropbox Freemium Lessons
As a freemium model, Dropbox offers a free version with basic features and limited storage, as well as premium paid plans with additional features and increased storage.
Dropbox's freemium model has taught some valuable lessons in the software industry, including-
User Acquisition- Dropbox's freemium model has proven to be an effective strategy for user acquisition. Offering a free version allows Dropbox to attract a large user base and build brand awareness, which can lead to increased adoption and conversion to paid plans.
Product Differentiation- Dropbox's free version offers basic file storage and sharing features, while the paid plans include advanced functionalities such as increased storage, team collaboration, and admin controls. This product differentiation helps Dropbox to appeal to different segments of users with varying needs and budgets. 
Upselling and Monetization- Dropbox's freemium model provides opportunities for upselling and monetization. Once users reach the storage limits of the free version or require advanced features, they are more likely to upgrade to a paid plan, generating revenue for Dropbox.
Customer Retention- Dropbox's freemium model helps with customer retention. By providing a free version that meets basic user needs, Dropbox can retain users who may upgrade to paid plans in the future. This also encourages customer loyalty and reduces the churn rate.
Market Competition- Dropbox's freemium model has helped it stay competitive in the crowded cloud storage and file-sharing market. Offering a free version has allowed Dropbox to attract and retain users, despite competition from other companies offering similar services.
Flexibility and Scalability- Dropbox's freemium model provides flexibility and scalability in terms of storage needs and user requirements. Users can start with the free version and upgrade to paid plans as their storage needs and team collaboration requirements grow.
Conclusion
Dropbox's business model approach has proven successful in acquiring and retaining users, differentiating their products, generating revenue through upselling and monetization, and staying competitive in the cloud storage and file-sharing market.
Dropbox's flexibility and scalability, along with its focus on user needs and customer retention, have made it a prominent player in the software industry, offering reliable and convenient solutions for individuals and businesses alike.